St Andrew in Oxmarket, (Chichester)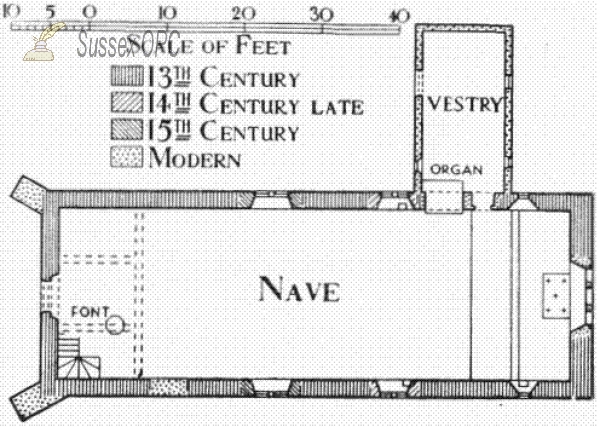 Denomination:
Internet:
Address:
St Andrews Court, off East Street, Chichester, West Sussex.
Grid reference: 486240, 104830, View on: Google Maps, Open Street Map, Streetmap, National Library of Scotland Map or Oldmaps.
Incumbents:
Church of England Clergy Database.
Registers:
Earliest Register: 1598.
Baptisms:
There are no baptisms in the OPC database.
IGI Batches: C040411 (1505 ~ 1812); C040413 (1812 ~ 1871).
Burials:
There are no burials in the OPC database.
No burial IGI batches known.
Marriages:
There are 547 marriages in the OPC database.
IGI Batches: M040411 ( ); M040413 (1840 ~ 1871).
Monumental inscriptions:
There are no monumental inscriptions in the OPC database.
Images:
There is 1 image of this church in the OPC database.
Building information:
Built: Unknown or not given.
Current use: Commercial.
(Oxmarket Centre of Arts)
Harrison's description (1911):
Under the entry for Chichester.
ST. ANDREW'S is built above a Roman pavement, and is interesting as containing the tomb of Collins, the poet. There are three piscinae; 14th c. font; mutilated tablet on exterior of W. wall, with remains of a representation of Our Lord. The nave is Perp. Reg. 1598.
Documents:
There are no documents about this church in the OPC database. If you have one, please contribute a transcription!
Publications:
There is 1 book about this church in the Sussex OPC Bibliography.
There are no articles about this church in the OPC Sussex Archeaological Collections Index.
Notes:
The church of ST. ANDREW lies surrounded by a small churchyard on the north side of East Street. The plan is simply a rectangular room with a vestry at the east end of the north wall. It is possible that a screen once divided the chancel from the nave, but no vestige is now perceptible, a 6 in. step alone effecting the division. There is a gallery over the west end, beneath which is the entrance. The walls are partly of stone and partly of flint, finished with roughcast; the dressings and quoins are of stone; the roof is tiled. The church was built during the 13th century and refitted early in the 19th century.
The east window, erected in recent years by Mr. George Dendy of Chichester, is a triple lancet under a two-centred arch. In the south wall of the chancel is a trefoil-headed piscina, and there are two more, one on each side of the nave. In the north wall of the chancel is a four-centred arched doorway to a vestry, added, and later extended, in the 19th century. The south wall of the vestry also contains a modern four-centred arched recess for the organ. In the north and south walls are six windows, three on each side; from west to east, two of the windows are pointed arched two-light cinquefoil openings with four-light trefoil heads; two (slightly different) are segmental arched two-light trefoil openings with quatrefoil heads and the other two are lancet windows. The west window is a two-centred two-light trefoil opening with quatrefoil heads and pierced sides. The exterior has gable ends east and west. Over the west gable is a small weather-boarded bell-turret with shingled broach-pinnacle and iron weather-vane. The west doorway is two-centred with splayed but unmoulded jambs. The west gable end, in which is a small circular window, is supported by heavy buttresses with tiled slopes. Two early-16th-century memorial tablets are let into the west and south walls. That in the south wall is much decayed; but the tablet in the west wall shows the kneeling figures of a man, his wife, and sons and daughters on each side. Below is an inscription, now illegible and perhaps deliberately defaced.
The ceiling is a modern mansard of wood. The woodwork of the tower is probably original, showing indication of an open timber roof. The font has a modern bowl on an earlier base contemporary with the church; the other fittings are modern.
There are the following monuments. South wall: Alderman Collins, 1734; Elizabeth Collins, his wife, 1744; Col. Edward Martin, 1748; William Collins (the poet), 1759; Hugh Sempill, 1762; Anne, his widow, wife of Rev. Dr. Durnford, and daughter of Alderman Collins, 1780; John Cawley, mayor of Chichester, 1621, which is an elaborate monument consisting of a bearded demi-figure in a ruff, blue doublet and red gown, beneath a cusped trefoil canopy, and flanked by Corinthian columns on plinths supporting a cornice with carved frieze, surmounted by an armorial achievement, at the base of which is the inscription 'Time Hath Overtaken Me'; below the figure is a long inscription probably added later in the century. The arms are those of Cawley. Capt. Henry Chads, R.N., 1799; and Susannah Chads, his wife, 1795; Thomas Parker, 1740; Thomas and Susannah Parker, his parents; Mrs. Jane Parker, 1753; Mrs. Mary Parker, 1757; William Wittman, M.D., Ass. Surgeon and Dep. Inspector, Royal Regiment of Artillery, 1815; and Elizabeth, relict, 1849; James Kerwood, 1793; Elizabeth Kerwood, relict, 1802. North wall: Richard Buckner, alderman, 1777; Mary Buckner, his wife, 1772; Capt. Robert Sandy, Royal Regiment of Artillery, 1768; Thomas Guy, 1788; Mary Guy, wife, 1774; and (later addition) Thomas Guy, M.D., 1804; William Milton, 1752; Frances Milton, his wife, 1757; William Milton, son, 1783; and Anne, relict of the last, 1807; John Voyze Hodge, alderman, 1856.
There is a modern bell in the bell-turret.
The plate consists of a silver chalice with hall-mark 1749 and inscribed 'For the use of St. Andrew's Church Chichester, 1752'; a silver paten and flagon with hall-mark 1842 and both inscribed 'Ad honorem Dei et in usum Ecclesiae Sancti Andrae Cicestrensis MDCCCXLII'; a silver flagon; and a silver gilt spoon.
The registers are as follows: (i) baptisms and marriages 1568–1708, burials 1563–1708; (ii) baptisms 1711–1753, marriages 1711–1754, burials 1711–1752; (iii) baptisms and burials 1753–1804; (iv) marriages 1754–1812; (v) baptisms and burials 1809–1812.
'From: Chichester: Churches (Anglican)', A History of the County of Sussex: Volume 3 (1935), pp. 160-164. URL: http://www.british-history.ac.uk/report.aspx?compid=41675. Date accessed: Wednesday, October 10, 2007.
The church was damaged by a wartime bomb in 1943, and was never used for church services again. Following redundancy and closure on 5th December 1952 it was deconsecrated and became derelict. The Chichester Centre of Arts was founded in 1971 and immediately began to restore the building. This included the installation of 'contemporary yet classical' new windows, designed and engraved by Majella Taylor. The north window depicts the patron saint of music, St Cecilia and one of the south windows shows a figure reading a book - a memorial to William Collins the poet who was buried here. The memorials formerly in the church have been removed. Opening in 1976, the centre continued the restoration programme with the conversion of the vestry into a workshop and storeroom. A modern extension on the north side, over the derelict graveyard, was opened in 1989 by H.R.H. The Princess Alexandra.
Source: Chichester Centre of Arts leaflet, 2008.
Interest in this church:
No registered users have badged this church yet. To share your interest with others, why not register as a frequent user of this site?
The advertisements below are served by Google; the very small revenue generated when people click on them sometimes covers the cost of hosting the Sussex OPC website.