St Peter the Great, (Chichester)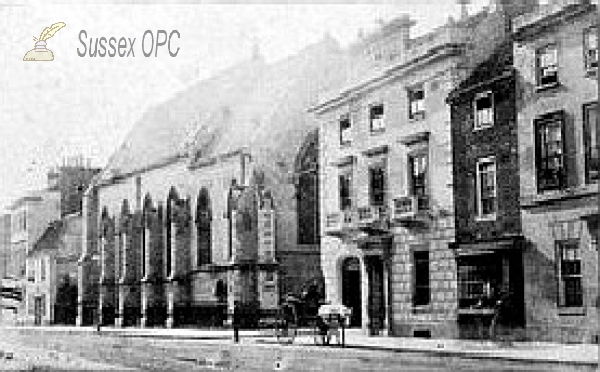 Denomination:
Internet:
Address:
West Street, Chichester.
Grid reference: 485905, 104865, View on: Google Maps, Open Street Map, Streetmap, National Library of Scotland Map or Oldmaps.
Incumbents:
Currently there is no incumbent information available.
Registers:
Baptisms:
There are 5 baptisms in the OPC database.
No baptism IGI batches known.
Burials:
There are no burials in the OPC database.
No burial IGI batches known.
Marriages:
There are 1511 marriages in the OPC database.
IGI Batch: M040461 (1558 ~ 1754).
Monumental inscriptions:
There are no monumental inscriptions in the OPC database.
Images:
The old Roughwood Churches Album has images and notes about this church.
There is 1 image of this church in the OPC database.
Building information:
Built: 1848 - 1852.
Closed: 1979.
Architect: R. C. Carpenter.
Style: Curvilinear of stone.
Current use: Commercial.
(Restaurant & wine bar)
Documents:
There are no documents about this church in the OPC database. If you have one, please contribute a transcription!
Publications:
There are no books about this church in the Sussex OPC Bibliography.
There are no articles about this church in the OPC Sussex Archeaological Collections Index.
Notes:
The Subdeanery Church. Before the construction of the church, the parish was served from an altar in the Cathedral, and, presumably, since the Subdeanery Church's closure.

The church of ST. PETER THE GREAT or SUBDEANERY, in West Street, was begun in 1850 in the 14th-century style, and was consecrated in 1852. It is built of stone with a tiled roof, and consists of a nave of four bays with aisles and a chancel of two bays; the vestry is at the east end of the north aisle, the porch and entrance is an addition at the west end of the south aisle. The fittings are modern, except the font, which appears to be of the 15th century and was probably removed from the cathedral. The church was designed by Mr. Richard Carpenter, consulting architect of the cathedral.
The plate consists of a silver chalice with hallmark for 1849; a like chalice with hall-mark for 1870 and inscribed Charlotte Gruggen D.D., 1871.
The registers are as follows: (i) baptisms 1558– 1692, marriages 1558–1679, burials 1568–1679; (ii) baptisms, marriages and burials 1664–1751 (c); (iii) baptisms 1676–1717, marriages 1677–1713, burials 1676–1680; (iv) baptisms and marriages 1719–1727, burials 1678–1767; (v) baptisms 1727– 1756, marriages 1727–1754; (vi) baptisms 1756–1805; (vii) marriages 1754–1786; (viii) burials 1767–1811; (ix) baptisms and burials 1774–1790 (c); (x) baptisms and burials 1772–1782 (c); (xi) marriages 1787–1811; (xii) burials 1811–1812; (xiii) marriages 1811–1812; (xiv) baptisms 1805–1812.
From: 'Chichester: Churches (Anglican)', A History of the County of Sussex: Volume 3 (1935), pp. 160-164. URL: http://www.british-history.ac.uk/report.aspx?compid=41675. Date accessed: Wednesday, October 10, 2007..
Interest in this church:
No registered users have badged this church yet. To share your interest with others, why not register as a frequent user of this site?
The advertisements below are served by Google; the very small revenue generated when people click on them sometimes covers the cost of hosting the Sussex OPC website.