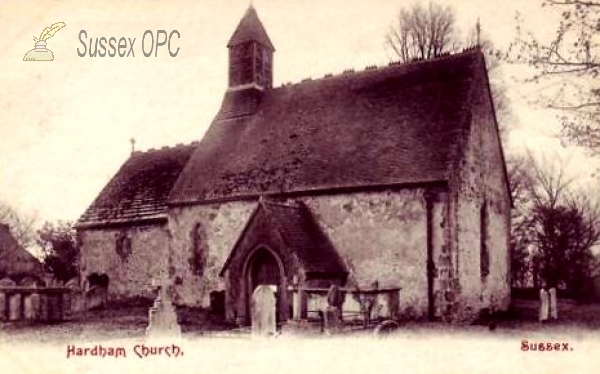 Denomination:
Internet:
A Church Near You (Church of England site for this church).
Address:
Hardham, West Sussex RH20 1LB.
Grid reference: 503875, 117570, View on: Google Maps, Open Street Map, Streetmap, National Library of Scotland Map or Oldmaps.
Incumbents:
Church of England Clergy Database.
Registers:
Earliest Register: 1642.
Baptisms:
There are no baptisms in the OPC database.
IGI Batches: C070571 (1584 ~ 1624, 1592 ~ 1700, 1642 ~ 1880); E070571 (1584 ~ 1624, 1592 ~ 1700, 1642 ~ 1880).
Burials:
There are no burials in the OPC database.
No burial IGI batches known.
Marriages:
There are no marriages in the OPC database.
IGI Batch: M070571 (1584 ~ 1640, 1662 ~ 1752, 1799 ~ 1876).
Monumental inscriptions:
There are no monumental inscriptions in the OPC database.
Images:
There are 6 images of this church in the OPC database.
Building information:
Built: 1050.
Current use: Worship.
Saxon Churches in Sussex have an interesting article with illustrations about investigations at the church in 1978 and 1981
Harrison's description (1911):
ST. BOTOLPH. Of the old Nor. building there are three windows, chancel arch and door of nave; E. window of two lancets is E.E.; in S. wall is a Dec. window, and at the side of it an Anchorite's sacrament squint (discovered by Mr. P. M. Johnston). Font, plain, Nor.(?). The mural paintings deserve special notice, as they are among the oldest in England. The subjects comprise B.V. Mary and Child, Adoration of Magi, Flight into Egypt, Massacre of Innocents, Salutation of Elizabeth, Lazurus, Adam and Eve with the Serpent, St George at the Battle of Antioch, etc. (vide S.A.C., vol. 44). Reg. 1642. This entry goes on to describe Hardham Priory, which is included with the details of that building.
Documents:
There are no documents about this church in the OPC database. If you have one, please contribute a transcription!
Publications:
There are no books about this church in the Sussex OPC Bibliography.
There are 2 articles about this church in the OPC Sussex Archeaological Collections Index.
Interest in this church:
No registered users have badged this church yet. To share your interest with others, why not register as a frequent user of this site?
The advertisements below are served by Google; the very small revenue generated when people click on them sometimes covers the cost of hosting the Sussex OPC website.