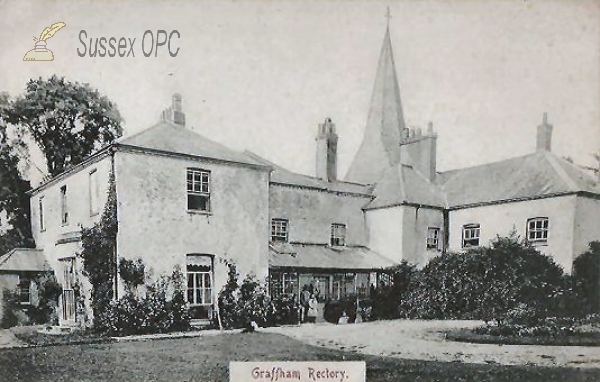 Denomination:
Internet:
A Church Near You (Church of England site for this church).
Address:
Graffham, West Sussex.
Grid reference: 492855, 116705, View on: Google Maps, Open Street Map, Streetmap, National Library of Scotland Map or Oldmaps.
Incumbents:
Church of England Clergy Database.
Registers:
Earliest Register: 1589.
Baptisms:
There are no baptisms in the OPC database.
IGI Batches: C070551 (1589 ~ 1624; 1655 ~ 1877); E070551 (1589 ~ 1624; 1655 ~ 1877).
Burials:
There are no burials in the OPC database.
No burial IGI batches known.
Marriages:
There are no marriages in the OPC database.
IGI Batch: M070551 (1589 ~ 1622; 1655 ~ 1875).
Monumental inscriptions:
There are no monumental inscriptions in the OPC database.
Images:
There are 8 images of this church in the OPC database.
Building information:
Built: 1874 - 87.
Architect: G. E. Street (Restoration).
Style: Early English. West tower with spire.
Current use: Worship.
Corpus of Romanesque Architecture has images of architectural details from St Giles Church
Harrison's description (1911):
ST. GILES. Restored in 1874 and in 1887. The restoration of this church was in memory of Bishop Wilberforce. With the exception of the piers and arches (Tr.-Nor.) the church is mainly E.E., with five grouped lancets at E. end. Font, Nor. Reg. 1665.
Documents:
There is 1 document concerning this church in the OPC database.
Publications:
There are no books about this church in the Sussex OPC Bibliography.
There are no articles about this church in the OPC Sussex Archeaological Collections Index.
Notes:
The building, as it now stands, varies considerably from the original, but retains four pillars and connecting arches in the middle of the nave from the later Norman times. All the outside walls date from the 1870's when the Church was completely rebuilt as a memorial to Bishop Samuel Wilberforce, who was Lord of the Manor and a son of William Wilberforce, famous for his anti slavery campaigns. The architect who was responsible for the "new look" was G.E. Street, with an unenviable reputation for most of his work, but St. Giles is one of his happier inspirations. The Church here retains that atmosphere of antiquity so often lost in a drastic restoration, and it would seem that the original building was in need of more than ordinary repair!!
The two interesting survivals from the earlier times are THE FONT which is early Norman. There are a number of very similar ones in West Sussex all with in ten miles. And an old lock (14th century?) is on the inside of an equally old door leading to the vestry. The Church plate contains nothing of exceptional interest and is comparatively modern.
The BELLS. The tower and spire, which Street had not touched, became unsafe, and were taken down in 1885. The tower was rebuilt in 1887 and the spire added in 1889. After the tower was taken down the original bells sat in the Churchyard for a while during which time one disappeared. As the two remaining bells were cracked they were recast, and rehung with a new smaller third bell.In 1900 a fourth larger bell was added. These were augmented to six in 1984.
Source: Church website .
Interest in this church:
No registered users have badged this church yet. To share your interest with others, why not register as a frequent user of this site?
The advertisements below are served by Google; the very small revenue generated when people click on them sometimes covers the cost of hosting the Sussex OPC website.