St Mary the Virgin, (Burpham)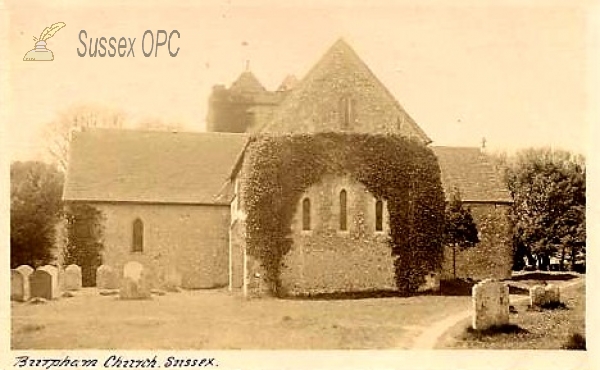 Denomination:
Internet:
A Church Near You (Church of England site for this church).
Address:
Burpham, West Sussex.
Grid reference: 503935, 108990, View on: Google Maps, Open Street Map, Streetmap, National Library of Scotland Map or Oldmaps.
Incumbents:
Church of England Clergy Database.
Registers:
Earliest Register: 1571.
Baptisms:
There are no baptisms in the OPC database.
No baptism IGI batches known.
Burials:
There are no burials in the OPC database.
No burial IGI batches known.
Marriages:
There are no marriages in the OPC database.
No marriage IGI batches known.
Monumental inscriptions:
There are no monumental inscriptions in the OPC database.
Images:
There are 11 images of this church in the OPC database.
Building information:
Built: Unknown or not given.
Current use: Worship.
Corpus of Romanesque Sculpture has many pictures of the architectural details of this church
Harrison's description (1911):
RESTORED in 1868-9. On a fortified hillock, with th4e mound still standing on the S., is the fine old cruciform church, with tower at W. end. In the building all styles of architecture may be traced :- Saxon, probably, in N. wall; Nor. in N. transept, with its plain semi-circular arch; late Nor. in arch of S. transept; Tr.-Nor. in nave arcade; E.E. in chancel; Dec. and Perp. in some windows.
The chancel is striking. The original arch was semi-circular (Nor.), but the present pointed arch was made at the restoration. The chancel is divided into two parts by an arch, or transverse rib, resting on clustered pillars with foliated capitals. Each section of the roof has quadripartite vaulting (late 12th c.) with simple diagonal rib. At E. end there are three single lancets widely splayed; on N. and S. of easter part of chancel is a two-light trefoiled lancet under a pointed arch (c. 1340); N. and S. of wester part, a single lancet. Note: string course; double aumbry on W., and single aumbry with shelf at E.; piscina, S.; low-side window, S.W.; Jacobean altar rail; chalice, 16th c., with quaint inscription.
N. transept has two small round-headed windows; beneath E. window was an altar, said to be dedicated to St. Sunday.
S. transept, S. aisle, and porch were re-built on old foundations at restoration. Note the arch of S. transept :- on N. side, double zig-zag; on S. pointed zig-zag ("Crown of Thorns") with compound piers and scalloped capitals (c. 1150).
The nave (c. 1170) has arcade of chalk piers with carved capitals; the windows, with depressed four centre arches, are Perp. (c. 1460). Note :- old pews and beams; Devil's Door (blocked up); old slab at W.; two 17th c. brass candelabra brought from London; font (Perp.)
The gable on N. transept is old. Reg. 1653.
Documents:
There are no documents about this church in the OPC database. If you have one, please contribute a transcription!
Publications:
There are no books about this church in the Sussex OPC Bibliography.
There are no articles about this church in the OPC Sussex Archeaological Collections Index.
Interest in this church:
No registered users have badged this church yet. To share your interest with others, why not register as a frequent user of this site?
The advertisements below are served by Google; the very small revenue generated when people click on them sometimes covers the cost of hosting the Sussex OPC website.