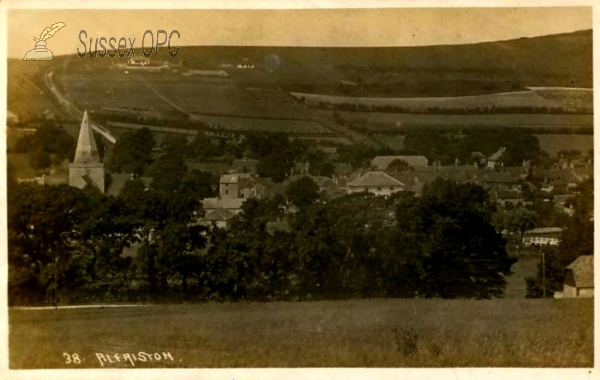 Denomination:
Internet:
A Church Near You (Church of England site for this church).
Address:
Unknown or not given.
Grid reference: 552100, 103000, View on: Google Maps, Open Street Map, Streetmap, National Library of Scotland Map or Oldmaps.
Incumbents:
Church of England Clergy Database.
Registers:
Earliest Register: 1538.
Baptisms:
There are 3 baptisms in the OPC database.
IGI Batches: P013851 (1538 ~ 1734); C013852 (1734 ~ 1881); E013852 (1734 ~ 1881).
Burials:
There are no burials in the OPC database.
No burial IGI batches known.
Marriages:
There are 709 marriages in the OPC database.
IGI Batch: M013852 (1538 ~ 1881).
Monumental inscriptions:
There are 73 monumental inscriptions in the OPC database.
Images:
POWPics (The New Roughwood Church Album) contains 22 photographs of this church. This album will also display any postcards or other images of the church which are in the Sussex OPC database.
There are 41 images of this church in the OPC database.
Building information:
Built: Unknown or not given.
Current use: Worship.
Harrison's description (1911):
ST. ANDREW. Restored in 1878-9. This beautiful cruciform church has been styled "The Cathedral of the Downs," and is a good example of transition from Decorated to Perpendicular. The interior is very pleasing, owing to its fine proportions, the loftiness of the arches, and the concave form of the half pillars and capitals, which support the arches of the tower with its shingled spire. Above the capitals of the pillars at the E. end may be seen where the rood-beam rested. At the W. end of N, and S. chancel walls are low-side windows, with flat ogee-shaped cusped heads and sunk spandrels; fine triple sedilia; Easter sepulchre, three piscinæ. In top lights of N. transept window is some old glass representing the figure of St, Alphege. Font, plain and square.
Close to the church is the interesting timber built pre-Reformation Clergy House, with fine carved roof. There is the stump of the old Market Cross near the old inn (The Star).
Documents:
There are 3 documents concerning this church in the OPC database.
Publications:
There are no books about this church in the Sussex OPC Bibliography.
There is 1 article about this church in the OPC Sussex Archeaological Collections Index.
Interest in this church:
No registered users have badged this church yet. To share your interest with others, why not register as a frequent user of this site?
The advertisements below are served by Google; the very small revenue generated when people click on them sometimes covers the cost of hosting the Sussex OPC website.