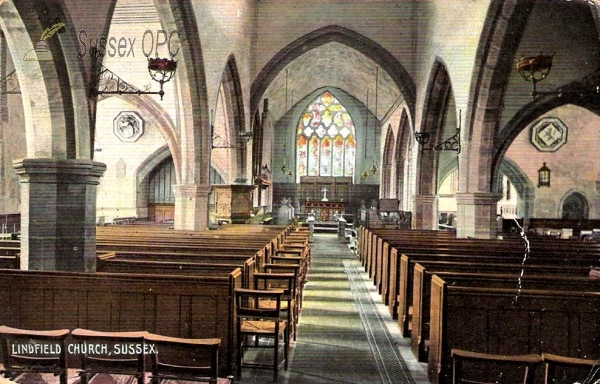 Denomination:
Internet:
A Church Near You (Church of England site for this church).
Grid reference: 534895, 125880, View on: Google Maps, Open Street Map, Streetmap, National Library of Scotland Map, Magic Maps
Incumbents:
Currently there is no incumbent information available.
Registers:
Earliest Register: 1558.
Baptisms:
There are 49 baptisms in the OPC database.
No baptism IGI batches known.
Burials:
There are 37 burials in the OPC database.
No burial IGI batches known.
Marriages:
There are 15 marriages in the OPC database.
No marriage IGI batches known.
Monumental inscriptions:
There are no monumental inscriptions in the OPC database.
Images:
POWPics (The New Roughwood Church Album) contains 15 photographs of this church. This album will also display any postcards or other images of the church which are in the Sussex OPC database.
There are 12 images of this church in the OPC database.
Building information:
Current use: Worship.
Harrison's description (1911):
ALL SAINTS. Restored in 1884-7. The restoration of this fine cruciform church has destroyed many of its interesting details, including mural paintings and old glass. The church (Dec.) is 14th c., and the fine E. window is of a flamboyant nature (cf. Etchingham). In the parvise was found part of a screen, since removed to a private house. Note: roof of nave and of S. transept; pulpit; aumbry; piscina and old chest in N. chapel; two corbels with shields and coats of arms in S. chapel. Hussey, writing before the restoration, says that the lower part of the walls of the church, especially the northern, is older than the upper, and that the N. transept was rebuilt (c. 1859), The E.E. tower is 13th c. Most of the windows are Perp. Reg 1558.
Documents:
There are 2 documents concerning this church in the OPC database.
Publications:
There are no books about this church in the Sussex OPC Bibliography.
There are 3 articles about this church in the OPC Sussex Archeaological Collections Index.
Interest in this church:
No registered users have badged this church yet. To share your interest with others, why not register as a frequent user of this site?
The advertisements below are served by Google; the very small revenue generated when people click on them sometimes covers the cost of hosting the Sussex OPC website.