Parish Church, (Coombes)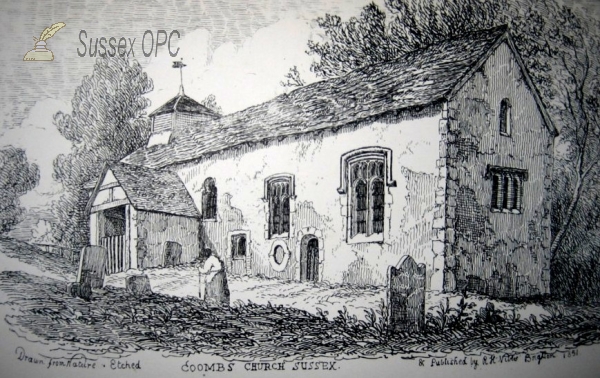 Denomination:
Internet:
A Church Near You (Church of England site for this church).
Address:
Coombes Road, Coombes, West Sussex BN15 0RS.
Grid reference: 519040, 108150, View on: Google Maps, Open Street Map, Streetmap, National Library of Scotland Map or Oldmaps.
Incumbents:
Church of England Clergy Database.
Registers:
Earliest Register: 1538.
Baptisms:
There are 533 baptisms in the OPC database.
IGI Batches: C070291 (1558 ~ 1879); E070291 (1558 ~ 1879); C070292 (1768 ~ 1879).
Burials:
There are no burials in the OPC database.
No burial IGI batches known.
Marriages:
There are no marriages in the OPC database.
IGI Batch: M070291 (1542 ~ 1810).
Monumental inscriptions:
There are no monumental inscriptions in the OPC database.
Images:
There are 5 images of this church in the OPC database.
Building information:
Built: Unknown or not given.
Current use: Worship.
Harrison's description (1911):
Shortened in 1724. This little church has a plain early Nor. chancel arch; the S. door and body of the building, some of the windows and priests' door are also Nor. The porch is 16th c.; the trefoil -headed windows are E.E.; there are also some late Perp. windows; those on S. side are of green sandstone and in excellent preservation. There is a circular opening filled in on S. side, which was a low-side window; and another old square one near it. Note: circular marks on priests' door (sundials?); font; sepulchral slab. The chalice is dated 1588. There is some old stained glass. Reg. 1538.
The Mannings are buried in the chancel.
Documents:
There are no documents about this church in the OPC database. If you have one, please contribute a transcription!
Publications:
There are no books about this church in the Sussex OPC Bibliography.
There is 1 article about this church in the OPC Sussex Archeaological Collections Index.
Notes:
Coombes Church has a Saxon Nave with wall paintings circa 1100. The Chancel is 13th Century.
Interest in this church:
No registered users have badged this church yet. To share your interest with others, why not register as a frequent user of this site?
The advertisements below are served by Google; the very small revenue generated when people click on them sometimes covers the cost of hosting the Sussex OPC website.