Saltdean, (East Sussex)
Formerly open, uninhabited farmland belonging to the village of Rottingdean, Saltdean was developed following a sell off of the land for development in the 1920s. Some of this was promoted by Charles W. Neville, who also masterminded development at nearby Peacehaven. It has a mainly shingle beach, fronted by a promenade, the Undercliff Walk, which can be reached by steps from the clifftop. Saltdean is now a prosperous village suburb of the city of Brighton and Hove, though its eastern fringe is administratively part of the neighbouring Lewes District Council.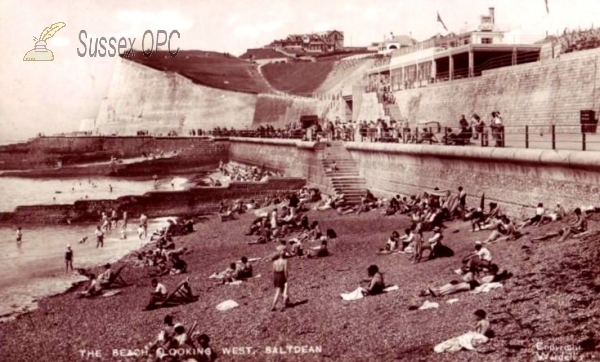 The buildings nearest the coastline are architecturally varied, and include some influenced by international trends of the inter-war years, e.g. Bauhaus and Cubism, and there are some which are Spanish-influenced. The most famous building is the Lido or swimming-pool, whose architect was R.W.H. Jones, and the former Ocean Hotel, based on the appearance of mid-20th century ocean liners, is also noteworthy.
Ancient parish:
Saltdean was created from the parish of Rottingdean.
Places of worship:
Church details, together with baptism, marriage, monumental inscription & burial records can be accessed by clicking on the church name.
Census returns:
The OPC Database has no census returns for people residing in this parish yet.
Maps:
Grid reference: 538301, 102477 ~ View on: Google Maps, Open Street Map, Streetmap, National Library of Scotland Map or Oldmaps.
Poll Registers:
The OPC database contains no poll register entries for people entitled to vote in this parish.
1641 Protestation Returns:
There are no protestation returns for this parish in the OPC database.
Gazettes:
The OPC database contains no entries for people mentioned in Gazzetes associated with this parish.
Photographs:
There are 42 images depicting this parish in the OPC database.
POWPics (The new Roughwood churches album) contains 6 photographs of churches in this parish. This album will also display any postcards or other images of churches which are in the Sussex OPC database.
Postal directories:
The OPC database contains no postal directory entries for this parish.
Publications:
There are no books about this parish in the Sussex OPC Bibliography.
There is 1 article about this parish in the OPC Sussex Archeaological Collections Index.
There are no people from this parish in the OPC Sussex Archeaological Society Members Index.
Wills:
The OPC database contains no wills of people who lived in this parish.
The OPC database contains no wills that mention this parish.
Interest in this parish:
No registered users have badged this parish yet. To share your interest with others, why not register as a frequent user of this site?
Please contact the OPC co-ordinator if you have information or links you would like to contribute.
Remember that OPCs are volunteers and are unlikely to have information not listed on this page.
Please be courteous and patient - they, like you, have busy lives and will try and respond as quickly as they can.
The advertisements below are served by Google; the very small revenue generated when people click on them sometimes covers the cost of hosting the Sussex OPC website.