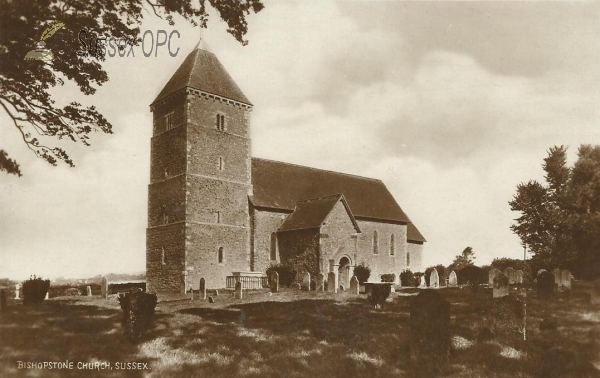 Denomination:
Internet:
A Church Near You (Church of England site for this church).
Address:
Bishopstone Road, Bishopstone, East Sussex BN25 2UD.
Grid reference: 547230, 101010, View on: Google Maps, Open Street Map, Streetmap, National Library of Scotland Map or Oldmaps.
Incumbents:
Church of England Clergy Database.
Registers:
Earliest Register: 1561.
Baptisms:
There are no baptisms in the OPC database.
No baptism IGI batches known.
Burials:
There are no burials in the OPC database.
No burial IGI batches known.
Marriages:
There are no marriages in the OPC database.
No marriage IGI batches known.
Monumental inscriptions:
There are no monumental inscriptions in the OPC database.
Images:
POWPics (The New Roughwood Church Album) contains 5 photographs of this church. This album will also display any postcards or other images of the church which are in the Sussex OPC database.
There are 22 images of this church in the OPC database.
Building information:
Built: Unknown or not given.
Current use: Worship.
Harrison's description (1911):
RESTORED in 1885. The Saxon work in this church makes it of more than ordinary interest. The large, lofty south porch, with long-and-short work of large stones, may have been a lateral chapel (see "The Arts in Early England" by Baldwin Brown). The door to church is not opposite the porch door, thus giving more space for small altar. In front of this is a small Norman porch, with zig-zag over door and pillars (restored) with capitals at side. Above this porch is a Saxon sun-dial with a cross and the name Eadric. Portions of nave walls are also pre-Conquest.
The chancel was, probably, originally Norman, but altered in Tr.-Nor. or E.E. period. It is divided into two parts. The E. has string course, with zig-zag and pellet on S., running round it; quadripartite vaulting (restored); clustered columns at angles; dog-tooth moulding on arch; Nor. shafts and capitals. Note large recess on S., also the circular windows over arch. The W. chancel has a lofty arch with deeply cut mouldings and foliated capitals; on N. and S. are two Nor. arches with zig-zag on the eastern one. The nave, E.E., is small. The curious Nor. stone slab on S. of tower, showing the Lamb and Doves drinking, as in early Christian sculptures in Rome, and the fine Dec. niche in porch were discovered at the restoration. N. aisle is Tr.-Nor. The tower, built in four stages, each diminishing in size, and separated by string course, is early Norman. Note corbel table. The top stage has a two-light window on each side divided by baluster. Inside, the tower has a low round arch and above it may be seen a high round one. There is an old pewter flagon and a chalice (1568). Font, Nor. Reg. 1561.
Documents:
There are 2 documents concerning this church in the OPC database.
Publications:
There are no books about this church in the Sussex OPC Bibliography.
There are 4 articles about this church in the OPC Sussex Archeaological Collections Index.
Interest in this church:
No registered users have badged this church yet. To share your interest with others, why not register as frequent use of this site?
The advertisements below are served by Google; the very small revenue generated when people click on them sometimes covers the cost of hosting the Sussex OPC website.