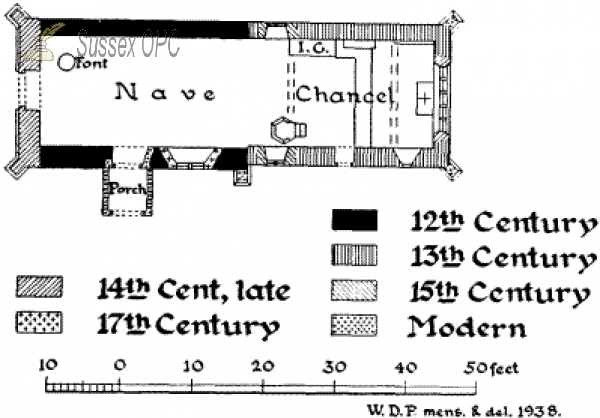 Denomination:
Internet:
A Church Near You (Church of England site for this church).
Address:
Racton, West Sussex, PO18 9DP.
Grid reference: 477930, 109230, View on: Google Maps, Open Street Map, Streetmap, National Library of Scotland Map or Oldmaps.
Incumbents:
Church of England Clergy Database.
Registers:
Earliest Register: 1680.
Baptisms:
There are no baptisms in the OPC database.
No baptism IGI batches known.
Burials:
There are no burials in the OPC database.
No burial IGI batches known.
Marriages:
There are no marriages in the OPC database.
No marriage IGI batches known.
Monumental inscriptions:
There are no monumental inscriptions in the OPC database.
Images:
There are 3 images of this church in the OPC database.
Building information:
Built: Unknown or not given.
Current use: Worship.
Harrison's description (1911):
RESTORED in 1875. E. E. church with Perp. additions. The roof is old; there is no chancel arch, but a massive beam with Royal Arms (G. R.) and carved woodwork above. There are three monuments and several slabs to the Gunter family, of which Colonel George Gunter (the faithful friend of Charles II.) was a member. Reg. 1680.
Documents:
There are no documents about this church in the OPC database. If you have one, please contribute a transcription!
Publications:
There are no books about this church in the Sussex OPC Bibliography.
There are 3 articles about this church in the OPC Sussex Archeaological Collections Index.
Notes:
This little church existed in 1142, when Savaric fitz-cane and his wife Muriel, daughter of Engelger de Bohun, gave the church of Racton to Lewes Priory. It was held by the monks until the amalgamation of the benefice with that of the rectory of Lordington in 1445. The church consists of a chancel, nave with bell-cote, and south porch. The nave is probably twelfth century and the chancel was added in the thirteenth. The present east window was opened and the whole west wall rebuilt in about the fourteenth century; the porch is modern. In the chancel is a canopied table-tomb commemorating John Gunter (d. 1557) whose descendants helped Charles II to escape from Shoreham to Normandy after the battle of Worcester. Charles II is said to have stayed in the thatched cottage outside the church overnight. From Church website.
Interest in this church:
No registered users have badged this church yet. To share your interest with others, why not register as a frequent user of this site?
The advertisements below are served by Google; the very small revenue generated when people click on them sometimes covers the cost of hosting the Sussex OPC website.