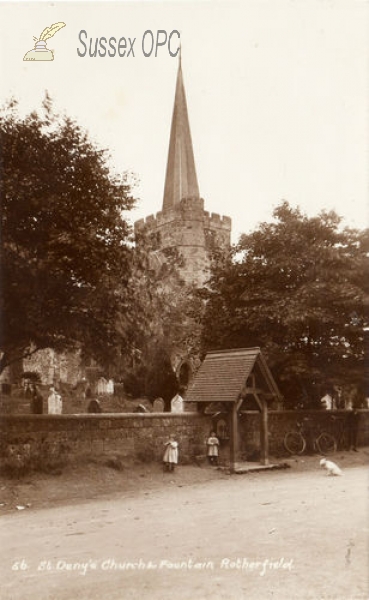 Denomination:
Internet:
A Church Near You (Church of England site for this church).
Grid reference: 555600, 129800, View on: Google Maps, Open Street Map, Streetmap, National Library of Scotland Map, Magic Maps
Incumbents:
Currently there is no incumbent information available.
Registers:
Earliest Register: 1539.
Baptisms:
There are 58 baptisms in the OPC database.
IGI Batches: C135542 (1539 ~ 1604); C135549 (1589 ~ 1674); C135543 (1604 ~ 1627); C135548 (1662 ~ 1749); C135545 (1665 ~ 1683); C135551 (1675 ~ 1701); C135552 (1701 ~ 1734); C135553 (1734 ~ 1764); C135554 (1764 ~ 1780); C135554 (1788 ~ 1812).
Burials:
There are 55 burials in the OPC database.
No burial IGI batches known.
Marriages:
There are 37 marriages in the OPC database.
IGI Batch: M148353 (1837 ~ 1881).
Monumental inscriptions:
There are 3 monumental inscriptions in the OPC database.
Images:
POWPics (The New Roughwood Church Album) contains 34 photographs of this church. This album will also display any postcards or other images of the church which are in the Sussex OPC database.
There are 24 images of this church in the OPC database.
Building information:
Current use: Worship.
Harrison's description (1911):
Restored in 1873 and 1894. There was an 8th c. Saxon church here. The present building is mainly E.E. The chancel (E.E.) has plain lancets with Perp. E. window by Sir E. Burne-Jones; on S. are two sedilia with triangular-headed arches; piscina; plain segmental recess; under choir stalls, three brass shields to John Wickham, Prebendary of Winchester and rector of this parish 1580-1591. The S. chancel chapel no longer remains, but its arches may be seen in the wall. The N. chapel is to the Nevill family (Marquess of Abergavenny), and has tow E.E. arches and Perp. screen; three-light Dec. E. window with some old glass; piscina in E. wall; lancets on N. side; founder's tomb; Nevill arms on ceiling; two old chests (1635); mural paintings on splay of E. window (The Annunciation) and on W. arch traces only (Incredulity of St. Thomas). Nave has fine moulded roof; N. arcade with circular columns (13th c.); S. arcade with octagonal columns (14th c.); mural painting of Doom over chancel arch; rood-loft doorway. In N. aisle, large monumental slab of iron. On S. wall of S. aisle, mural painting of a fish.
There is a parvise over the porch on the N. side, which has part of altar-slab. The W. door (Perp.) is very fine. The pulpit (early 17th c.) was restored in memory of Archbishop Thomson, of York. Font, octagonal, 15th c., with rich canopy (1816). The embattled tower has shingled spire.
Note the plain and heavy character of the building, typical of all periods in many churches in the Weald of Sussex.
Documents:
There are 2 documents concerning this church in the OPC database.
Publications:
There are no books about this church in the Sussex OPC Bibliography.
There are 4 articles about this church in the OPC Sussex Archeaological Collections Index.
Interest in this church:
No registered users have badged this church yet. To share your interest with others, why not register as a frequent user of this site?
The advertisements below are served by Google; the very small revenue generated when people click on them sometimes covers the cost of hosting the Sussex OPC website.