St Nicholas, (Worth)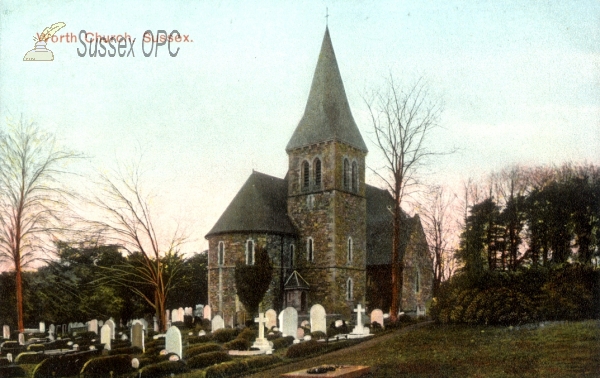 Denomination:
Internet:
A Church Near You (Church of England site for this church).
Address:
Worth Way, Worth, West Sussex.
Grid reference: 530500, 136500, View on: Google Maps, Open Street Map, Streetmap, National Library of Scotland Map, Magic Maps
Incumbents:
Currently there is no incumbent information available.
Registers:
Earliest Register: 1558.
Baptisms:
There are 6 baptisms in the OPC database.
IGI Batches: E071361 (1558 ~ 1876); C071361 (1558 ~ 1876).
Burials:
There are 5 burials in the OPC database.
No burial IGI batches known.
Marriages:
There are 2099 marriages in the OPC database.
IGI Batch: M071361 (1559 ~ 1659, 1670 ~ 1876).
Monumental inscriptions:
There are no monumental inscriptions in the OPC database.
Images:
POWPics (The New Roughwood Church Album) contains 13 photographs of this church. This album will also display any postcards or other images of the church which are in the Sussex OPC database.
There are 24 images of this church in the OPC database.
Building information:
Built: Unknown or not given.
Current use: Worship.
Harrison's description (1911):
Restored in 1871; S. porch erected in 1886. This church has the unique distinction of being the only Saxon cruciform edifice in the country which is complete and untouched in plan. There are no aisles or central tower; the tower at N. being of much later date. Another noteworthy feature is the horizontal string course, running round the apsidal chancel as well as on the nave, but not on transepts. Beneath this string course are pilaster strips. The quoins exhibit long-and-short work. Around the apse, and elsewhere, may be seen the double plinth (or base).
The chancel arch is the finest and largest Saxon one in England, 22 feet high, springing from large square plain imposts; the arches of transepts are similar to this, by 7 feet lower. There are three Saxon two-light windows, divided by baluster, high up in the nave. On the jambs of the S. window (13th c.), near the chancel, may be seen traces of diaper work in colour. The window at N. of N. transept is also 13th c.; that over W. door is 14th c. In S. transept is old chest with triple lock; some old carved pew heads, utilised as panelling. The curious old font is formed of two others - the upper is 12th c.; the lower one older. Note: "Devil's Door" in N. wall; piscina and sedila in chancel; carved wooden pulpir from Germany (1541); carved oak rails, probably of same date, also foreign; 17th c. W. gallery. The round-headed windows in apse are modern. The lychgate is old.
There is no mention in Domesday Book of a church at Worth (Orde) which was included in Surrey. This may be due to the survey being incomplete owing to the extensive forest.
Documents:
There is 1 document concerning this church in the OPC database.
Publications:
There are no books about this church in the Sussex OPC Bibliography.
There are 2 articles about this church in the OPC Sussex Archeaological Collections Index.
Interest in this church:
No registered users have badged this church yet. To share your interest with others, why not register as a frequent user of this site?
The advertisements below are served by Google; the very small revenue generated when people click on them sometimes covers the cost of hosting the Sussex OPC website.