St Margaret's Convent Chapel, (East Grinstead)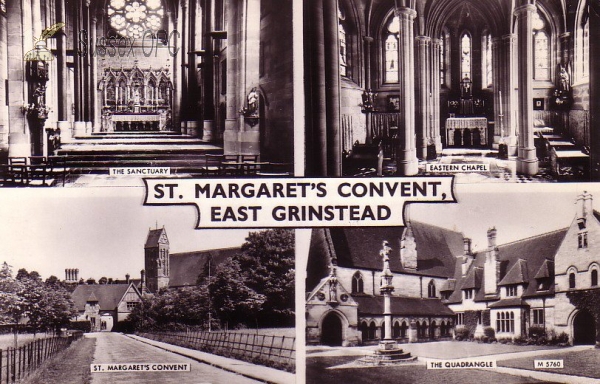 Denomination:
Internet:
None available - please tell us if you know differently.
Address:
Moat Road, East Grinstead, West Sussex.
Grid reference: 539180, 138950, View on: Google Maps, Open Street Map, Streetmap, National Library of Scotland Map, Magic Maps
Incumbents:
Currently there is no incumbent information available.
Registers:
Baptisms:
There are no baptisms in the OPC database.
No baptism IGI batches known.
Burials:
There are no burials in the OPC database.
No burial IGI batches known.
Marriages:
There are no marriages in the OPC database.
No marriage IGI batches known.
Monumental inscriptions:
There are no monumental inscriptions in the OPC database.
Images:
POWPics (The New Roughwood Church Album) contains 4 photographs of this church. This album will also display any postcards or other images of the church which are in the Sussex OPC database.
There are 33 images of this church in the OPC database.
Building information:
Built: 1879-83.
Closed: 1984.
Architect: G. E. Street.
Style: Early English of sandstone. South west saddleback tower. Organ gallery, vaulting, marble altar & reredos.
Current use: Residential.
Documents:
There are no documents about this church in the OPC database. If you have one, please contribute a transcription!
Publications:
There are no books about this church in the Sussex OPC Bibliography.
There are no articles about this church in the OPC Sussex Archeaological Collections Index.
Notes:
For Neale the beautiful view from the College was spoilt by the thought of the poor isolated cottagers with no-one ministering to their needs. This inspired him to found, in 1854, one of the earliest Anglican sisterhoods, the Society of St Margaret, to nurse the poor at home within a radius of 25 miles, for hospitals were few. They soon added education, 'rescue' and parish work, and spread to other parts of the country and abroad. Today the Society works in Sri Lanka and parts of England and self-governing affiliated societies follow the same rule in England, Scotland and the U.S.A.
East Grinstead remained the headquarters in compact modern premises in St John's Road (1975, K. R. Smith, and 1989, D. G. Joyce) until 2005 when falling numbers obliged the sisters to withdraw. The buildings are likely to be replaced by flats or houses.
The former Convent in Moat Road (1865-1909, G.E & A.E. Street), 'an example of Gothic Revival architecture which no other country in Europe can equal' (P. F. Anson), including Chapel, tower, refectory and quadrangle, a noble and impressive group of buildings, austere and lofty but given warmth by the colour and texture of tiles and local sandstone, is a grade I listed building and has been converted to private housing - East Grinstead Official Guide website.
Interest in this church:
No registered users have badged this church yet. To share your interest with others, why not register as a frequent user of this site?
The advertisements below are served by Google; the very small revenue generated when people click on them sometimes covers the cost of hosting the Sussex OPC website.