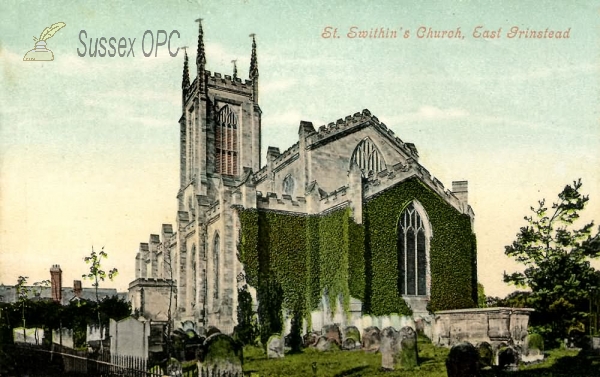 Denomination:
Internet:
A Church Near You (Church of England site for this church).
Address:
Church Lane/St Swithun's Close, East Grinstead, West Sussex.
Grid reference: 539500, 138500, View on: Google Maps, Open Street Map, Streetmap, National Library of Scotland Map, Magic Maps
Incumbents:
List of Vicars from a list displayed in the church
Registers:
Earliest Register: 1558.
Baptisms:
There are 19216 baptisms in the OPC database.
IGI Batches: P014011 (1558 ~ 1661); C070562 (1662 ~ 1743); C070561 (1705 ~ 1727, 1743 ~ 1876); E070562 (1705 ~ 1727, 1743 ~ 1876).
Burials:
There are 1497 burials in the OPC database.
No burial IGI batches known.
Marriages:
There are no marriages in the OPC database.
IGI Batches: M070562 (1662 ~ 1743); M070561 (1678 ~ 1719, 1743 ~ 1875 ).
Monumental inscriptions:
There are no monumental inscriptions in the OPC database.
Images:
The old Roughwood Churches Album has images and notes about this church.
There are 25 images of this church in the OPC database.
Building information:
Current use: Worship.
Harrison's description (1911):
Restored in 1871. The lofty tower can be seen from a distance, and wsa built in 1785 after the fall of the previous one, which destroyed the greater portion of the church. By reason of its date, it has been condemned by Gothic purists, but it is a good example of modern work. A second restoration in 1874 has converted the edifice practically into a modern one. Among the few traces of the old church is the brass (1505) to Elizabeth Grey (widow of Sir Thos. Grey), daughter of the founder (?) of the original building (Lord Scales), and her figure is placed between those of her two husbands. Some members of the Nevill family (Earls of Abergavenny) are buried here. There is an iron slab to Ann Barclay. As in the church at Alfriston, the pillars and capitals are convave. S.E. of churchyard is Dr. Neale's tomb.
Near the church is Sackville College, an almshouse, founded by Robert, Earl of Dorset, in 1608. The quadrangle is a good specimen of Jacobean style. There is some good woodwork in the chapel, and the old furniture and fireplace in the hall are worth noticing.
Church histories:
Documents:
There are 2 documents concerning this church in the OPC database.
Publications:
There are no books about this church in the Sussex OPC Bibliography.
There are 2 articles about this church in the OPC Sussex Archeaological Collections Index.
Interest in this church:
1 registered user has badged this church. To contact them or see their details, please register as a frequent visitor to this site.
The advertisements below are served by Google; the very small revenue generated when people click on them sometimes covers the cost of hosting the Sussex OPC website.