Hebron Chapel, (Ripe)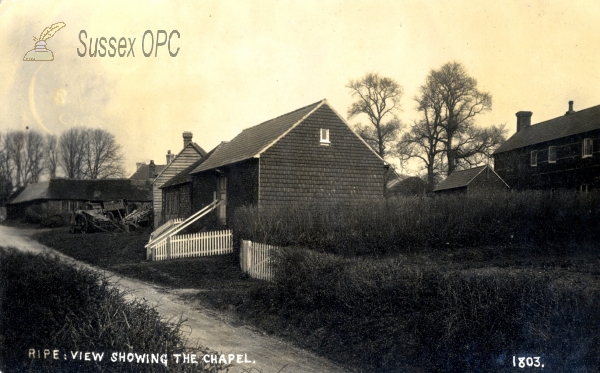 Denomination:
Internet:
Address:
Firle Road, Ripe.
Grid reference: 550861, 109909, View on: Google Maps, Open Street Map, Streetmap, National Library of Scotland Map or Oldmaps.
Incumbents:
Currently there is no incumbent information available.
Registers:
Baptisms:
There are no baptisms in the OPC database.
No baptism IGI batches known.
Burials:
There are no burials in the OPC database.
No burial IGI batches known.
Marriages:
There are no marriages in the OPC database.
No marriage IGI batches known.
Monumental inscriptions:
There are no monumental inscriptions in the OPC database.
Images:
There is 1 image of this church in the OPC database.
Building information:
Built: c. 1820.
Closed: 1948.
Demolished: c. 1948.
Style: Red brick, steps up from road, no windows on façade.
Current use: Demolished.
(Vacant)
Documents:
There are no documents about this church in the OPC database. If you have one, please contribute a transcription!
Publications:
There are no books about this church in the Sussex OPC Bibliography.
There are no articles about this church in the OPC Sussex Archeaological Collections Index.
Notes:
Registered for worship in 1830. Lis Rowe has supplied the following information (2011) "I believe that it started as a meeting in a cottage, and then the chapel building was built and registered as a place of worship in around 1830, and in the latter half of the 19th century it was taken over by the Gospel Standard Strict and Particular Baptist denomination as a "daughter church" of Zoar Chapel, Dicker. It is highly probable that of the church entries that you have on your site for Ripe, Hebron Chapel is one and the same as the "Protestant Dissenters". The chapel was situated on what is now Firle Road in Ripe, and the single storey building that can be seen to the left of the building (behind the carts) was the Forge, with the Wheelwright's adjacent to that (out of shot in the picture). My great-great grandparents (Thomas and Emma Hook) lived at Mill Farm in Ripe from 1879-1942, Mill Farm being one house further up the road than the Forge/Wheelwrights. They attended the Baptist chapel in Ripe for the whole time that they were living there, and it was after the death of Thomas in 1942 and the subsequent sale of Mill Farm that Hebron Chapel fell into disuse and was then demolished in 1948. The pulpit from Hebron chapel is now located in the Sunday School rooms at Zoar Chapel, Dicker". Strict Baptist from 1881-1920, when it became Gospel Standard.
Interest in this church:
1 registered user has badged this church. To contact them or see their details, please register as a frequent visitor to this site.
The advertisements below are served by Google; the very small revenue generated when people click on them sometimes covers the cost of hosting the Sussex OPC website.