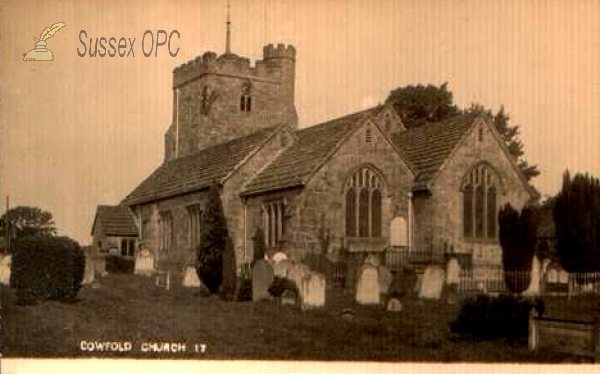 Denomination:
Internet:
A Church Near You (Church of England site for this church).
Address:
Brook Hill/Browning's Hill, Cowfold, West Sussex.
Grid reference: 521500, 122500, View on: Google Maps, Open Street Map, Streetmap, National Library of Scotland Map or Oldmaps.
Incumbents:
Church of England Clergy Database.
Registers:
Earliest Register: 1558.
Baptisms:
There are 4930 baptisms in the OPC database.
IGI Batches: P014161 (1558 ~ 1812); C070321 (1813 ~ 1880); E070321 (1813 ~ 1880).
Burials:
There are 11 burials in the OPC database.
No burial IGI batches known.
Marriages:
There are 6 marriages in the OPC database.
IGI Batches: M070321 (1558 ~ 1875); M070322 (1558 ~ 1875).
Monumental inscriptions:
There are no monumental inscriptions in the OPC database.
Images:
POWPics (The New Roughwood Church Album) contains 6 photographs of this church. This album will also display any postcards or other images of the church which are in the Sussex OPC database.
There are 7 images of this church in the OPC database.
Building information:
Built: Unknown or not given.
Current use: Worship.
Harrison's description (1911):
Restored in 1876-7. This pretty church, E.E., with Perp. additions, has the magnificent brass to Thomas Nelond, Prior of Lewes, 1433. The brass, 10 feet long, is a splendid state of preservation and effectively protected by a padlocked covering. The effigy of the prior is in the dress of a Cluniac monk standing with folded hands beneath an arch, protected by the Virgin and Child, S. Pancras and St. Thomas-à-Becket. The font is Perp. with peculiar ornamental panelling. The three original lancets in the chancel have old stained glass. The aisle and arcade with depressed arches were built in Henry VIII's reign. Note traces of older windows. The old porch is picturesque. Reg. 1558.
Documents:
There are no documents about this church in the OPC database. If you have one, please contribute a transcription!
Publications:
There are no books about this church in the Sussex OPC Bibliography.
There are no articles about this church in the OPC Sussex Archeaological Collections Index.
Interest in this church:
No registered users have badged this church yet. To share your interest with others, why not register as a frequent user of this site?
The advertisements below are served by Google; the very small revenue generated when people click on them sometimes covers the cost of hosting the Sussex OPC website.