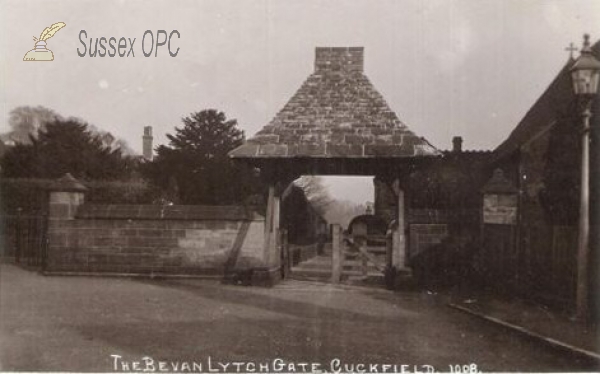 Denomination:
Internet:
A Church Near You (Church of England site for this church).
Address:
Church Platt/Church Street, Cuckfield, West Sussex RH17 5JZ.
Grid reference: 530500, 124500, View on: Google Maps, Open Street Map, Streetmap, National Library of Scotland Map or Oldmaps.
Incumbents:
List of Vicars is available on The Cuckfield Compendium
Registers:
Earliest Register: 1598.
Baptisms:
There are 3836 baptisms in the OPC database.
1598 - 1699 & 1746 - 1812 look up service offered
IGI Batches: P014341 (1598 ~ 1699); E014341 (1598 ~ 1699).
Burials:
There are 90 burials in the OPC database.
1598 - 1699 & 1746 - 1812 look up service offered
No burial IGI batches known.
Marriages:
There are 17 marriages in the OPC database.
IGI Batch: M014341 (1598 ~ 1699).
Monumental inscriptions:
There are 5 monumental inscriptions in the OPC database.
Images:
POWPics (The New Roughwood Church Album) contains 3 photographs of this church. This album will also display any postcards or other images of the church which are in the Sussex OPC database.
There are 15 images of this church in the OPC database.
Building information:
Built: Unknown or not given.
Current use: Worship.
Harrison's description (1911):
HOLY TRINITY. Restored in 1855-6. This large church was commenced in E.E. style, of which the tower, with trefoil corbel-table and three bays on the S. aisle of nave remain. About middle of 14th c. the rest of the nave and aisles were added. The chancel aisles are late Perp. work; the S. aisle has been restored. The vestry was formerly used as a mortuary chapel of the Sergisons (rebuilt, 1888). The roof, which bears the badges of the Nevilles, is late 15th c. work, and the colouring has been restored. The font is Nor. (restored). There are two brasses (1587) to Henry Bowyer, and several monuments, dating from 1500 to 1800; one of these is by Flaxman, and another by Westmacott. The two fine timber porches are modern. In the S. one is a stoup, and there is another in the church. Reg. 1598.
Documents:
There is 1 document concerning this church in the OPC database.
Publications:
There are no books about this church in the Sussex OPC Bibliography.
There are 8 articles about this church in the OPC Sussex Archeaological Collections Index.
Other links:
The Cuckfield Compendium has extracts from the Parish Registers
Interest in this church:
No registered users have badged this church yet. To share your interest with others, why not register as frequent use of this site?
The advertisements below are served by Google; the very small revenue generated when people click on them sometimes covers the cost of hosting the Sussex OPC website.