St Andrew & St Mary, (Fletching)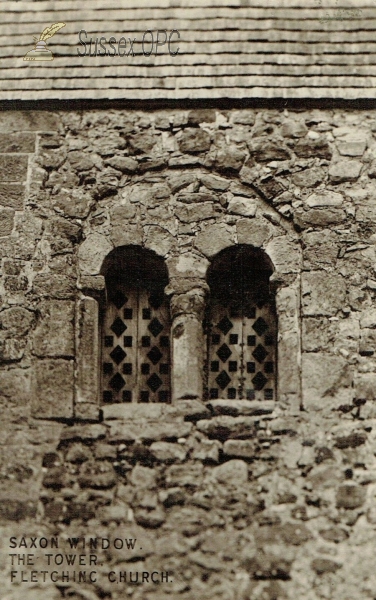 Denomination:
Internet:
A Church Near You (Church of England site for this church).
Address:
Church Street, Fletching, East Sussex.
Grid reference: 542800, 123500, View on: Google Maps, Open Street Map, Streetmap, National Library of Scotland Map or Oldmaps.
Incumbents:
Church of England Clergy Database.
Registers:
Earliest Register: 1554.
Baptisms:
There are 3937 baptisms in the OPC database.
IGI Batch: C148051 (1554 ~ 1876).
Burials:
There are no burials in the OPC database.
No burial IGI batches known.
Marriages:
There are no marriages in the OPC database.
IGI Batch: M148053 (1881 ~ 1898).
Monumental inscriptions:
There are no monumental inscriptions in the OPC database.
The OPC's website has an indexed catalogue of the graves in the churchyard compiled by Sonia Harriyott and Dennis Kenward. The earliest burial is 1588
Images:
The old Roughwood Churches Album has images and notes about this church.
There are 15 images of this church in the OPC database.
Building information:
Built: Unknown or not given.
Current use: Worship.
Harrison's description (1911):
Restored in 1880. The church has been over restored, and much of the architectural value has suffered in consequence. It has a fine early Nor. tower with double-light windows divided by balusters, and a lofty broach spire. There are some traces of Nor. work also in the nave, otherwise the church is E.E. The fine E. window and some of the windows in the transepts have geometrical tracery, and in the nave Perp.; the fine screen (restored) is also Perp. In the transepts are three lancet windows with old glass which, during the restoration, was found buried in the churchyard. The elongated lancets at W. end of N. and S. sides of chancel walls are low-side windows. Note: squint; piscina and helmets in N. transept. In S. transept there is a fine brass on an altar-tomb to Sir Edward Dallyngrygge and lady (1390); another altar-tomb bears the effigy of Richard Leche and his wife (1596). In the W. end of N. aisle is the little brass with gloves to Petrus Denot, a glover, and a follower of Jack Cade. Amid the tombs of the Sheffield family is that of Edward Gibbon, the great historian (d. 1794), with an epitaph by Dr. Parr. There is a stoup in the nave, and a second one in the porch.
Documents:
There are no documents about this church in the OPC database. If you have one, please contribute a transcription!
Publications:
There are no books about this church in the Sussex OPC Bibliography.
There are 2 articles about this church in the OPC Sussex Archeaological Collections Index.
Interest in this church:
No registered users have badged this church yet. To share your interest with others, why not register as frequent use of this site?
The advertisements below are served by Google; the very small revenue generated when people click on them sometimes covers the cost of hosting the Sussex OPC website.