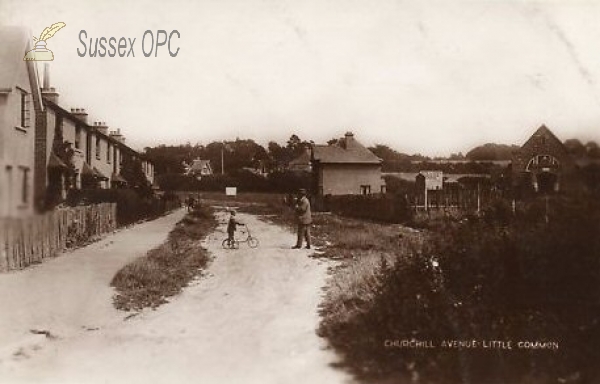 Denomination:
Internet:
Address:
Church Hill Avenue, Bexhill-on-Sea, East Sussex TN39 4SG.
Grid reference: 571494, 107785, View on: Google Maps, Open Street Map, Streetmap, National Library of Scotland Map, Magic Maps
Incumbents:
Currently there is no incumbent information available.
Registers:
Baptisms:
There are no baptisms in the OPC database.
No baptism IGI batches known.
Burials:
There are no burials in the OPC database.
No burial IGI batches known.
Marriages:
There are no marriages in the OPC database.
No marriage IGI batches known.
Monumental inscriptions:
There are no monumental inscriptions in the OPC database.
Images:
POWPics (The New Roughwood Church Album) contains 2 photographs of this church. This album will also display any postcards or other images of the church which are in the Sussex OPC database.
There are 2 images of this church in the OPC database.
Building information:
Built: 1926.
Style: Modern vernacular around original chapel.
Current use: Worship.
Documents:
There are 2 documents concerning this church in the OPC database.
Publications:
There are no books about this church in the Sussex OPC Bibliography.
There are no articles about this church in the OPC Sussex Archeaological Collections Index.
Notes:
Little Common Methodist Church was first founded in according to some early records in 1838. This mention occurs in a Preaching Plan for Hastings and gives Little Common as the location. The original chapel, known as the "Turf Chapel" was built over five months, cost Thirty One Pounds, twelve shillings and one half penny and was opened in 1837, probably June of that year. It is thought that the Chapel was rebuilt of bricks in 1859 and as Little Common was a village at that time and not connected to Bexhill it must have been a very pretty rural picture. By 1915 Bexhill had expanded and an extension was felt essential. The present fine central site in Church Hill Avenue was purchased and in 1926 the new Church was opened. It met all needs until the early 1950's when it was found that a Hall would be required for the increasing amount of Youth work. At the same time the Church was refurbished with the addition of a new pulpit and communion rail. Substantial Grants from the Connectional Chapel Committee and the Rank trust combined with bequests meant that the Church extension was opened free of debt on the 22nd July 1953. Due to expansion of the congregation an additional south aisle was added in 1962 together with an improved entrance vestibule. Finally a further hall, "The Wesley Rooms" were added in May 1988. During the time of our present Minister, Rev. Roger Leslie the South Aisle has been used for small services and a new wooden Cross made of oak was presented and placed on the wall facing the Congregation. Source: Church website (March 2009). Turf Chapel was sold in 1915 and the proceeds helped by the land for the present church. The old chapel was finally demolished around 1930 and the site redeveloped for commercial purposes. .
Interest in this church:
No registered users have badged this church yet. To share your interest with others, why not register as a frequent user of this site?
The advertisements below are served by Google; the very small revenue generated when people click on them sometimes covers the cost of hosting the Sussex OPC website.