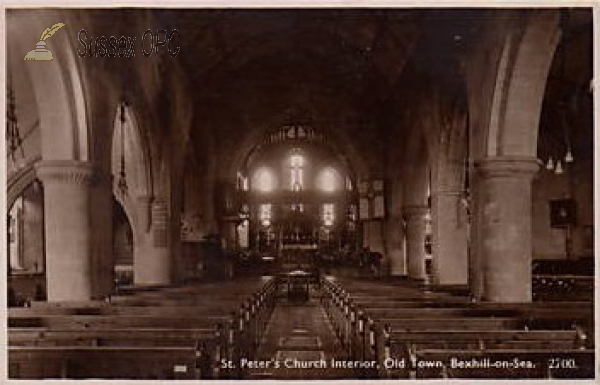 Denomination:
Internet:
A Church Near You (Church of England site for this church).
Address:
Church Street, Bexhill, East Sussex, TN40 2HE.
Grid reference: 574600, 108100, View on: Google Maps, Open Street Map, Streetmap, National Library of Scotland Map, Magic Maps
Incumbents:
Church of England Clergy Database.
Registers:
Earliest Register: 1558.
Baptisms:
There are 149 baptisms in the OPC database.
No baptism IGI batches known.
Burials:
There are 1631 burials in the OPC database.
Burials 1799 - 1837
No burial IGI batches known.
Marriages:
There are no marriages in the OPC database.
No marriage IGI batches known.
Monumental inscriptions:
There are no monumental inscriptions in the OPC database.
Memorial to William Meekes on the Maritime Memorials site
Memorial to David Watts on the Maritime Memorials site
Images:
POWPics (The New Roughwood Church Album) contains 26 photographs of this church. This album will also display any postcards or other images of the church which are in the Sussex OPC database.
There are 19 images of this church in the OPC database.
Building information:
Built: Unknown or not given.
Current use: Worship.
Harrison's description (1911):
Restored and enlarged in 1878 and 1907. Lower part of tower is Nor.; two bays of nave are late Nor.; one bay is E.E. Of the rest of this building there is not much that is old, except the Balesford Chantry (Perp.) and the sun dial, dated 1599. The fine E. window, with representations of Henry III and Eleanor of Provence, was sold to Horace Walpole and removed to Strawberry Hill; thence it has passed to the neighbourhood of Bury St. Edmunds. Note child's coffin-slab with Keltic interlaced patterns and crosses, etc., probably 8th century work.
Church histories:
St Peter's Church website with nice pictures, history etc
Documents:
There are 2 documents concerning this church in the OPC database.
Publications:
There are no books about this church in the Sussex OPC Bibliography.
There are 3 articles about this church in the OPC Sussex Archeaological Collections Index.
Other links:
The OPC will accept look ups from films available in the Family History Libraries and will be transcribing the parish records and making them available on his own web site.
Interest in this church:
No registered users have badged this church yet. To share your interest with others, why not register as a frequent user of this site?
The advertisements below are served by Google; the very small revenue generated when people click on them sometimes covers the cost of hosting the Sussex OPC website.