St Nicholas, (Arundel)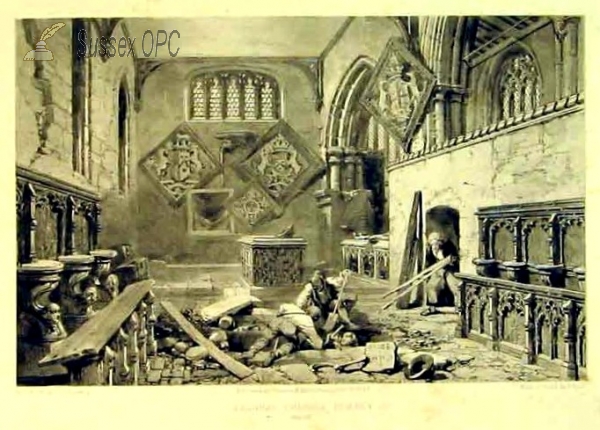 Denomination:
Internet:
A Church Near You (Church of England site for this church).
Grid reference: 501500, 107200, View on: Google Maps, Open Street Map, Streetmap, National Library of Scotland Map or Oldmaps.
Incumbents:
Church of England Clergy Database.
Registers:
Earliest Register: 1560.
Baptisms:
There are no baptisms in the OPC database.
IGI Batch: C070061 (1560 ~ 1876, 1739 ~ 1763, 1813 ~ 1876).
Burials:
There are 93 burials in the OPC database.
No burial IGI batches known.
Marriages:
There are 2762 marriages in the OPC database.
IGI Batches: M070061 (1560 ~ 1876); M070062 (1560 ~ 1690).
Monumental inscriptions:
There are no monumental inscriptions in the OPC database.
Images:
There are 22 images of this church in the OPC database.
Building information:
Current use: Worship.
Harrison's description (1911):
ST. NICHOLAS. Restored in 1874. Beneath the castle stands the fine lofty cruciform church. It has a nave, aisles, transepts, and tower. The chancel, or Fitz-Alan Chapel, is now walled off from the rest of the church; the space under the tower serving as chancel. The style is Perp., built about 1380. Note the mural paintings - N. wall of N. aisle, The Seven Acts of Mercy and figure of a saint; over N. door, The Seven Deadly Sins; S. wall of S. aisle, portions of another subject; also several consecration crosses; old proches; carved stone pulpit; Perp. font; quatre-foil windows in the clerestory and old vestry. The grille which separated the nave from the Fitz-Alan Chapel is one of the finest pieces of ironwork in the county.
This chapel and the Lady Chapel contain the tombs of the illustrious house of Fitz-Alan and Howard. Note the alabaster tomb of Earl Thomas Fitz-Alan; seven brasses - the finest (mutilated) to Thomas Salmon, Chamberlain to Henry V., and his wife (1430); and old stained glass. Near the chapel are some old college buildings to which it was attached. Permission to visit the Fitz-Alan Chapel must be obtained from the Duke of Norfolk's agent.
Near the bridge may be seen the ruins of old Maison Dieu or Hospital of the Holy Trinity, erected about the end of the 14th century by the 13th and 14th Earls of Arundel. It was destroyed by Waller's troops.
Documents:
There are 4 documents concerning this church in the OPC database.
Publications:
There are no books about this church in the Sussex OPC Bibliography.
There are 2 articles about this church in the OPC Sussex Archeaological Collections Index.
Interest in this church:
No registered users have badged this church yet. To share your interest with others, why not register as a frequent user of this site?
The advertisements below are served by Google; the very small revenue generated when people click on them sometimes covers the cost of hosting the Sussex OPC website.