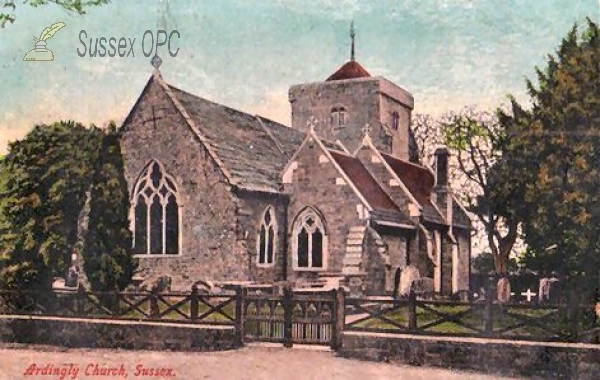 Denomination:
Internet:
A Church Near You (Church of England site for this church).
Address:
Unknown or not given.
Grid reference: 533930, 129860, View on: Google Maps, Open Street Map, Streetmap, National Library of Scotland Map, Magic Maps
Incumbents:
Church of England Clergy Database.
Registers:
Earliest Register: 1558.
Baptisms:
There are 2691 baptisms in the OPC database.
IGI Batches: P014201 (1558 ~ 1812); C070051 (1813 ~ 1876); E070051 (1813 ~ 1876).
Burials:
There are 1828 burials in the OPC database.
No burial IGI batches known.
Marriages:
There are 1327 marriages in the OPC database.
IGI Batch: M070051 (1558 ~ 1876).
Monumental inscriptions:
There are no monumental inscriptions in the OPC database.
Images:
POWPics (The New Roughwood Church Album) contains 4 photographs of this church. This album will also display any postcards or other images of the church which are in the Sussex OPC database.
There are 10 images of this church in the OPC database.
Building information:
Built: Unknown or not given.
Current use: Worship.
Harrison's description (1911):
ST. PETER. Restored in 1853 and 1859. Mainly Dec. (c. 1300), one of the few old churches in the county built of stone; good curvilinear windows. N. aisle, vestry and organ chamber are modern. There are two piscinæ and aumbry with hood moulding; low-side window divided by transom; priests' door; fragments of old stained glass in windows; staircase to rood loft. Note that some of the chancel windows have hood moulding of oak. Tower, oak screen, and W. window are Perp. Fine wooden porch. Splendid brass to Nicholas Culpeper and family; fine Perp. tomb (1457) with brasses to Richard Wakehurst and his wife; two tombs (one to lady and one to knight), with Dec. canopies; also one to unknown ecclesiastic.
Documents:
There are no documents about this church in the OPC database. If you have one, please contribute a transcription!
Publications:
There are no books about this church in the Sussex OPC Bibliography.
There are no articles about this church in the OPC Sussex Archeaological Collections Index.
Interest in this church:
1 registered user has badged this church. To contact them or see their details, please register as a frequent visitor to this site.
The advertisements below are served by Google; the very small revenue generated when people click on them sometimes covers the cost of hosting the Sussex OPC website.