Chichester, St Martin, (West Sussex)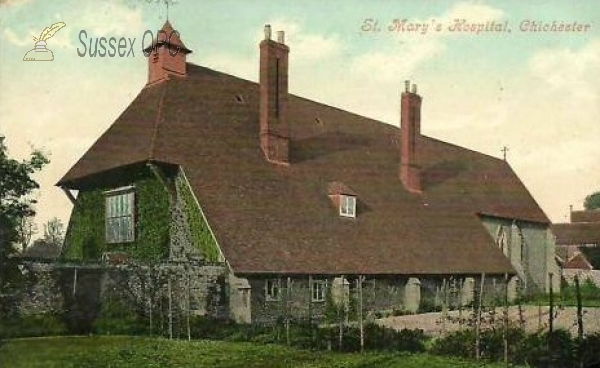 The church of St Martin stood at the northeast corner of St. Martin's Street and St. Martin's Square, the site being marked by a tablet in the wall. It was acquired by the Dean and Chapter of Chichester, who presented in 1557 and held the patronage until the parish was united, and the register books and monuments were removed to the church of St. Olave in 1899.
In 1802–3 the church was found to be in a bad state of repair and was rebuilt at a cost of £1,700. The work, however, appears to have been badly executed, almost wholly with lath and plaster, and the building again fell into disrepair in 1906, when it was pulled down. A paper by Mr. E. E. Street gives some structural details of the church and a list of the monuments. The chief point of interest discovered during its demolition was the finding of a mural painting, probably of the late 13th century, representing a bishop with mitre and crosier and his right hand raised. The bishop may well be St. Richard of Chichester. The church had a chancel, nave and bell tower which were out of repair in 1403. It is described in 1750 as having a small nave, chancel and north aisle, and a spire steeple with two bells. Only one bell (c. 1450) remained when the church was pulled down, and this was given to the old church of Rumboldswyke.
Parent parish:
Chichester, St Martin has been merged into the parish of Chichester.
Places of worship:
Church details, together with baptism, marriage, monumental inscription & burial records can be accessed by clicking on the church name.
Census returns:
The OPC Database has no census returns for people residing in this parish yet.
Maps:
Grid reference currently unknown.
Poll Registers:
The OPC database contains no poll register entries for people entitled to vote in this parish.
1641 Protestation Returns:
There are 38 protestation returns for this parish in the OPC database.
Gazettes:
The OPC database contains no entries for people mentioned in Gazzetes associated with this parish.
Photographs:
There are 13 images depicting this parish in the OPC database.
POWPics (The new Roughwood churches album) contains 1 photographs of churches in this parish. This album will also display any postcards or other images of churches which are in the Sussex OPC database.
Postal directories:
The OPC database contains no postal directory entries for this parish.
Publications:
There are no books about this parish in the Sussex OPC Bibliography.
There are 2 articles about this parish in the OPC Sussex Archeaological Collections Index.
There is 1 person from this parish in the OPC Sussex Archeaological Society Members Index.
Wills:
The OPC database contains no wills of people who lived in this parish.
The OPC database contains no wills that mention this parish.
Interest in this parish:
No registered users have badged this parish yet. To share your interest with others, why not register as a frequent user of this site?
Please contact the OPC co-ordinator if you have information or links you would like to contribute.
Remember that OPCs are volunteers and are unlikely to have information not listed on this page.
Please be courteous and patient - they, like you, have busy lives and will try and respond as quickly as they can.
The advertisements below are served by Google; the very small revenue generated when people click on them sometimes covers the cost of hosting the Sussex OPC website.