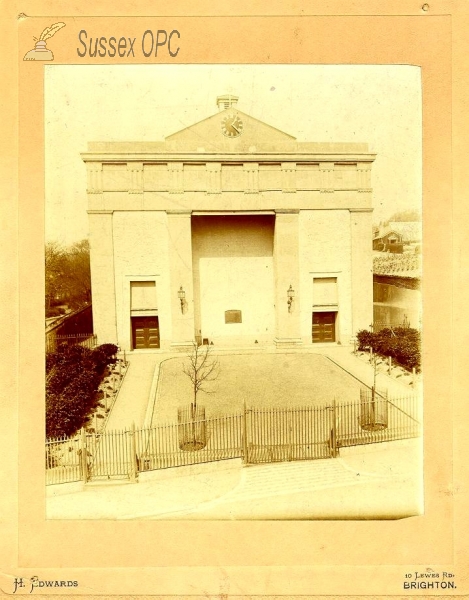 Denomination:
Internet:
Address:
Carlton Hill, Brighton, East Sussex.
Grid reference: 531750, 104250, View on: Google Maps, Open Street Map, Streetmap, National Library of Scotland Map or Oldmaps.
Incumbents:
Currently there is no incumbent information available.
Registers:
Baptisms:
There are no baptisms in the OPC database.
No baptism IGI batches known.
Burials:
There are no burials in the OPC database.
No burial IGI batches known.
Marriages:
There are 177 marriages in the OPC database.
IGI Batch: M147921 (1872 ~ 1880).
Monumental inscriptions:
There are no monumental inscriptions in the OPC database.
Images:
POWPics (The New Roughwood Church Album) contains 1 photographs of this church. This album will also display any postcards or other images of the church which are in the Sussex OPC database.
There is 1 image of this church in the OPC database.
Building information:
Built: 1840.
Closed: 1980.
Architect: George Cheesman.
Style: Neo-Classical of stone with brick and rendering. Facade on south remodelled by L A Mackintosh, 1957. Large Galleries.
Current use: Worship.
(Greek Orthodox Church dedicated to the Holy Trinity)
Documents:
There is 1 document concerning this church in the OPC database.
Publications:
There are no books about this church in the Sussex OPC Bibliography.
There are no articles about this church in the OPC Sussex Archeaological Collections Index.
Notes:
The Church was designed by architect George Cheesman Junior, one of a family of Brighton builders and was the third of H. M. Wagner's churches. It was consecrated in 1840 and was built to serve the needs of Brighton's worst slum area.
The church was built in a simple neoclassical style and had a square interior surrounded by galleries on three sides. The panelling behind the high altar formed the war memorial to the fallen of the first world war.
There were two side chapels, the north being dedicated to Our Lady (which contained a statue brought from All Souls when it was demolished in 1968) and the south to Christ the King. The original two pulpits were replaced at a later date by one built in the gothic style.
The church seats 1,200 people and has large galleries, was declared redundant in 1980. There were plans to convert it into a detoxification centre but these were rejected following a public enquiry and it remained closed until March 1986 when it was taken over by the Greek Orthodox community.
Is now the Greek Orthodox Church, dedicated to the Holy Trinity.
Interest in this church:
No registered users have badged this church yet. To share your interest with others, why not register as a frequent user of this site?
The advertisements below are served by Google; the very small revenue generated when people click on them sometimes covers the cost of hosting the Sussex OPC website.