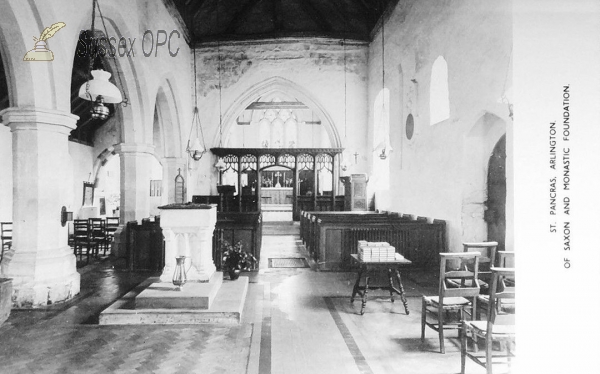 Denomination:
Internet:
A Church Near You (Church of England site for this church).
Grid reference: 554300, 107500, View on: Google Maps, Open Street Map, Streetmap, National Library of Scotland Map, Magic Maps
Incumbents:
Church of England Clergy Database.
Registers:
Earliest Register: 1606.
Baptisms:
There are no baptisms in the OPC database.
IGI Batches: C037701 (1607 ~ 1698); E037701 (1607 ~ 1698).
Burials:
There is 1 burial in the OPC database.
No burial IGI batches known.
Marriages:
There are 2 marriages in the OPC database.
IGI Batch: M037701 (1607 ~ 1698).
Monumental inscriptions:
There are 59 monumental inscriptions in the OPC database.
Funeral Monument Census - images large enough to read the inscriptions
Images:
The old Roughwood Churches Album has images and notes about this church.
There are 9 images of this church in the OPC database.
Building information:
Current use: Worship.
Harrison's description (1911):
ST. PANCRAS. Chancel rebuilt in 1868-9; church restored, 1896. This very interesting church exhibits all periods of architecture; re-buit in Dec. style after fire. A Roman urn and fragments of Roman pottery and tiles were found in the nave and are preserved in the chapel.
Saxon: portions of the nave; small double splayed window with Roman tiles in S. aisle; traces of arch of another window and of arches of chancel; long and short work in tower. Nor.: two round-headed windows in chapel. Tr.-Nor.: N. chapel. E.E.: arch with dog-tooth moulding, leading from chapel to N. aisle, and tower. Dec.: chancel and E. window; low-side window; fine arch over tomb in chancel; windows in chancel and several in aisles; EE. window of chapel; nave arcade. Perp.: font and two windows. The chancel screen was carved at Mayfield out of old wood from tower. Note: fine piscina; traces of mural paintings; oak pulpit; several old stone cross-slabs; masons' marks in porch and elsewhere; fragments of stoups; old porch; trsses rafter roof of nave and chapel.
Documents:
There is 1 document concerning this church in the OPC database.
Publications:
There are no books about this church in the Sussex OPC Bibliography.
There are 2 articles about this church in the OPC Sussex Archeaological Collections Index.
Interest in this church:
1 registered user has badged this church. To contact them or see their details, please register as a frequent visitor to this site.
The advertisements below are served by Google; the very small revenue generated when people click on them sometimes covers the cost of hosting the Sussex OPC website.