Battle Abbey, (Battle)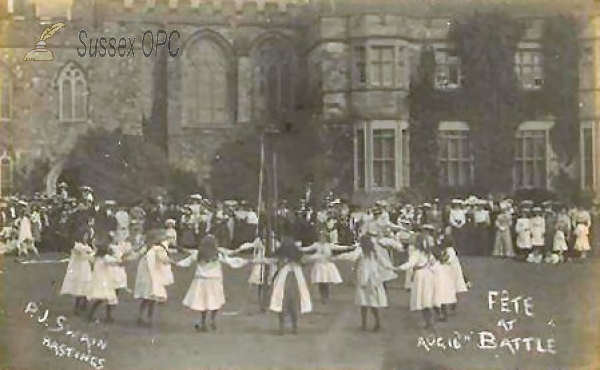 Denomination:
Internet:
Address:
Battle, East Sussex.
Grid reference: 574800, 115800, View on: Google Maps, Open Street Map, Streetmap, National Library of Scotland Map, Magic Maps
Incumbents:
Currently there is no incumbent information available.
Registers:
Baptisms:
There are no baptisms in the OPC database.
No baptism IGI batches known.
Burials:
There are no burials in the OPC database.
No burial IGI batches known.
Marriages:
There are no marriages in the OPC database.
No marriage IGI batches known.
Monumental inscriptions:
There are no monumental inscriptions in the OPC database.
Images:
POWPics (The New Roughwood Church Album) contains 1 photographs of this church. This album will also display any postcards or other images of the church which are in the Sussex OPC database.
There are 53 images of this church in the OPC database.
Castles, Abbeys & Medieval Buildings site has photos of Battle Abbey
The Battle Abbey Site - Ivor White
Building information:
Current use: Ruins.
(The abbey ruins are conserved.)
Harrison's description (1911):
THE ABBEY was erected on the exact site of the battlefield by William the Conqueror in fulfilment of his vow, made on the eve of the battle. The high altar marked the spot where Harold fell. The beautiful gateway was built by Abbot Retlynge, in 1338, and is a fine specimen of Decorated work. The Great hall and the locutory, or Abbot's parlour, are both striking rooms. There are some Early English details in the latter.
Of the great Abbey church scarcely a trace remains, except a few fragments of Norman work. The dormitory (12th century) is an extensive ruin, and beneath it are three crypts, one having a vaulted roof supported by Purbeck marble pillars; the middle one is more decorated; and the lowest is the finest and largest, with some splendid pillars and a Dec. window (geometrical).
It was in accordance with the Decree of Disolution that the first lay owner razed the historic old building to the ground.
Documents:
There are no documents about this church in the OPC database. If you have one, please contribute a transcription!
Publications:
There are 2 books about this church in the Sussex OPC Bibliography.
There are 8 articles about this church in the OPC Sussex Archeaological Collections Index.
Notes:
The abbey church is in ruins, but the massive gateway remains as a major landmark in the town. The abbey has been known for centuries as Battle Abbey, however, the abbey and abbey church were initially dedicated to Saint Martin, sometimes known as "the Apostle of the Gauls", and named in his honour.
Interest in this church:
No registered users have badged this church yet. To share your interest with others, why not register as a frequent user of this site?
The advertisements below are served by Google; the very small revenue generated when people click on them sometimes covers the cost of hosting the Sussex OPC website.